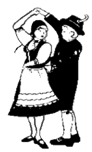 Volkstanzgruppe
The Volktanzgruppe was formed in March of 1981 when Elisabeth Burbach was the Program Committee Chairperson. Originally the group practiced once a month at the club house. As interest grew, dancers requested more than one practice a month. Beginning in September 1981, practices were held each Tuesday evening and a monthly performance was scheduled at the club.
In the past, the group has traveled to Germany many times to perform not only German folk dances, but early American line and square dances. in 1997, the Gruppe attended the Bundestanztreffen in Ehrfurt, Braunschweng & Offenburt Germany. They performed both German folk dances and early American dances with dancers from all over the world.
Our group is also a member of the North American Federation of German Folk Dance Groups. This organization has a yearly workshop with guest teachers from Germany. Each year, a different club is chosen to host the workshop. In 2014, the T.E.V. Edelweiss Club was chosen.
Our group is currently seeking dance music whether it is in sheet form, or on a tape, CD, DVD or memory stick. If you have any music to share with us, please contact the dance group through our club e-mail on the contact page. Check back for updates on our site and in Das Echo.
© 2011-2018
All material is copyrighted by
T.E.V. Edelweiss-Denver Incorporated.