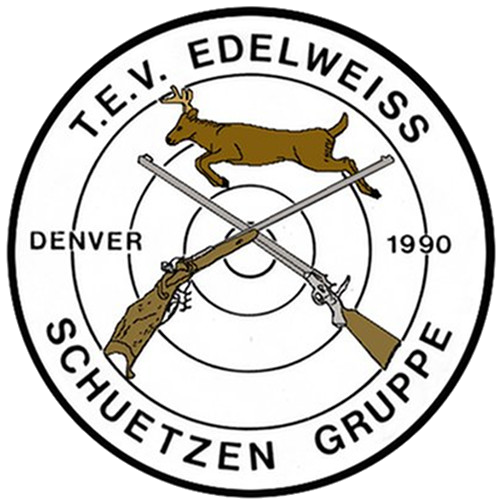 The group was founded in 1990 to use air rifles inside the club with steel traps and plywood backers. After proper permission was obtained from the local law enforcement offices, the group was ready to take on new members.
The first shoot was in the spring of 1990 and Ernst Boettcher was the first Schützenmeister of the group. It was decided that the group would meet in the spring and the fall, taking a break during the summer. The months were soon extended and now run from January through June and September through October.
Every November is the Schützenball, where medals are awarded. The top three Schüzenkönig (men) and the top three SchützenKönigen (ladies) are given gold, silver, and bronze medals. The gold medal winners are also awarded a silver medal on a chain. This is passed from person to person each year. Their names, along with the name of the Schützenmeister, are engraved on the plaque donated by Ernst Boettecher. Members wear vests with a logo patch identifying the group, who's mascot is "Spirit of the Forest" or "Waldgeist".
Each year, we have a membership drive where everyone from the ages of twelve and up are encouraged to shoot. Although kids ranging in ages from 12-17 need a parent or guardian present on the range, we encourage all young people to come visit and learn about gun safety.
Currently, the Schützengruppe is working on a dedicated indoor range on the property in Morrison. The indoor range will be open to air guns, with a possibility of a hand gun and rifle range just outside its doors.
© 2011-2017
All material is copyrighted by
T.E.V. Edelweiss-Denver Incorporated.